❤BEAUTIFULLY ROUND HEAD – PERFECTLY COMFY BABY PILLOW: Breathable ideal-angle concave pillow alleviates head pressure, preventing flat head syndrome. Stay-Cool baby surface keeps and AMPLE SHOULDER ROOM ensure babies neck stays correctly aligned without straining, keeping baby HAPPY, HEALTHY & ASLEEP
Free Waterproof Silicone Bib
The Bibs new parents should have in their Baby Kit
Waterproof

Saves time and money

Easy to clean with warm water

No more messy meals

Dishwasher safe

Adjustable

Comes free with every purchase of

Capitan Green Pillow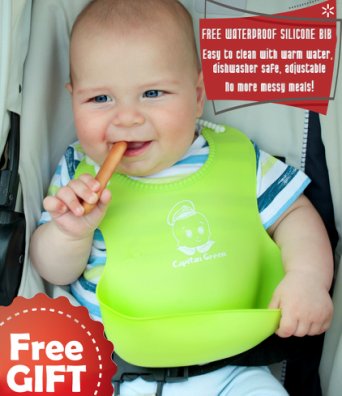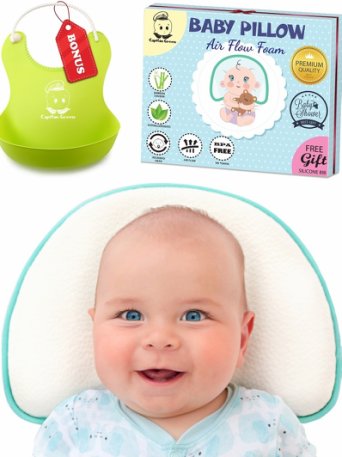 Complete Baby Pillow Premium Pack
1 Foam Baby Head Shaping Pillow
1 Breathable Inner Mesh Cover
2 Soft bamboo pillow covers
1 Bonus Silicone bibs
Printed Festive Red Ribbon Bow
Essential for every new parent
Perfect Baby Shower Gift
Take advantage of our limited time offer!
"I gave this to my nephew as a present. He was sleeping on a different shaped pillow before, which he didn't like so I got this plushy pillow.He showed a lot of interest from the beginning because the pillow cover is so soft on his skin. The bamboo pillow cases are so soft and silky that even I want to sleep on it.He doesn't let go of the pillow anymore, it has become his new favorite thing in his crib.The shape of this pillow keeps his head and neck in the correct position and he will grow with a nice round head."
Byllech92 on February 14, 2018
My nephew says "Yes!" to his bamboo baby head pillow
"I use this pillow when my child sleeps in his crib, in his car seat, and when shopping and using a stroller. My child's head has already improved in shape and I haven't even been using this a month yet. I think it's a great product to use along with extra tummy time to help you baby's head shape."
Jessica Marie Lesteron May 20, 2018
Great Product!
"It seemed to do the job. My baby was starting to get a flat spot on the right back side of her noggen. I got it when my baby was 2m and we have used it for 6 weeks in the Roc-n-play and crib, and her head has rounded out nicely. I will continue to use it to keep it that way. Way better that having to get a helmet."
Molly on April 26, 2018
Worked for 2-3m old